Children are born whole and complete. Their mind is limitless. In their formative years, children face many rejections and ridicule which creates fear in their minds. The environment they live in and their perceptions about life curtails their growth.
Parents have very high exceptions for their Children. The competitive nature of the current education system further adds lots of pressure on them.
Succeed program is designed to address these issues faced by students in the age group of 14 to 22.
Succeed program empowers students to create life balance, achieve academic success, manage time and craft action plans.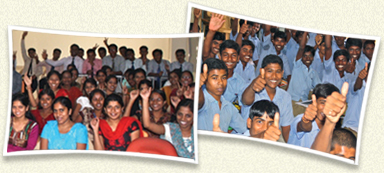 A remarkable improvement in student's behavior, self-confidence and character
By Dr. K.R.Rangaraj
Principal & Chairman, Shree Gurukulam HS School
Gopichettypalayam, TN